Happy New Year!
Stay safe and remember to wash those hands with Soap.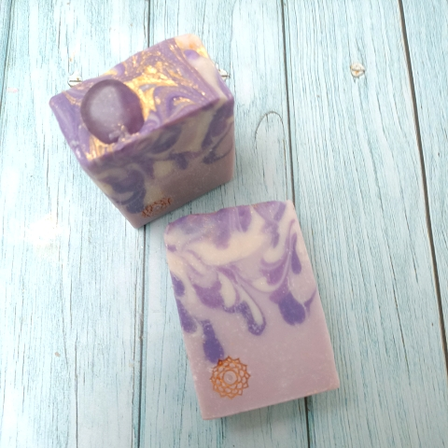 Chakra Soaps
These are designed to cleanse your body, mind and soul with each soap being alinged with one of the 7 chakras.
Crown Chakra
  

 a deliciously fruity blend of rainbow peppers, dragonfruit and blackberry top notes, with passionfruit, magnolia blossoms and fresh guava. on a base of warm pine amber
Each soap comes with an Amethyst crystal to keep and an affirmation card
Use Amethyst to activate your crown Chakra. The Crown chakra when unbalanced, can affect our ability to keep an open mind . A balanced Crown chakra can help one to keep a sharp mind, a sense of purpose and help with spiritual awakening
Amethyst for Intuition, spirituality and protection
Made from a premium recipe high in moisturizing shea and cocoa butters, kind and gentle on your skin
Palm oil free, vegan friendly and environment friendly. Weight 115-130g
Please note as these are all handmade every piece is different, there will be some difference in weight, colour and pattern.
VEGAN FRIENDLY | CRUELTY FREE | PALM FREE 
PHTHALATE FREE | PARABEN FREE | PLASTIC FREE
Good for you and good for our earth
Ingredients: olive oil, coconut oil, Shea butter, castor oil, cocoa butter, fragrance oil, kaolin clay, salt, mica