Happy New Year!
Stay safe and remember to wash those hands with Soap.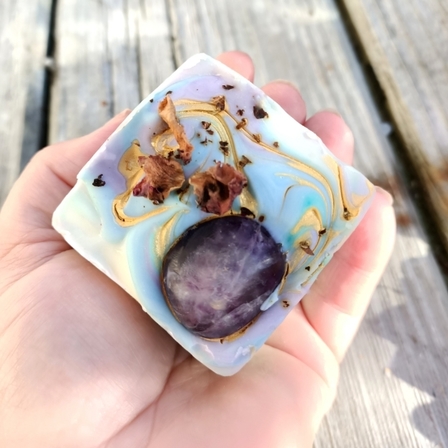 Rainbow Fluroite is a

 blend of lavender, herbs and aromatic woods with Chamomile, rosemary and  white sage on a base of cedar and sandalwood 
Please note that as they are handmade weight and color may vary between batches
Fluorite brings inner peace and clarity and helps to protect from negative energy.
Affirmation: My mind is clear and I am ready.
Made from a premium recipe high in moisturizing shea and cocoa butters, kind and gentle on your skin. Palm oil free and vegan friendly. Weight 115-130g
Please note as these are all handmade every piece is different, there will be some difference in weight, colour and pattern.
VEGAN FRIENDLY | CRUELTY FREE | PALM FREE 
PHTHALATE FREE | PARABEN FREE | PLASTIC FREE
Good for you and good for our earth
 Ingredients: olive oil, coconut oil, Shea butter, castor oil, cocoa butter,fragrance oil, kaolin clay, salt, mica