Happy New Year!
Stay safe and remember to wash those hands with Soap.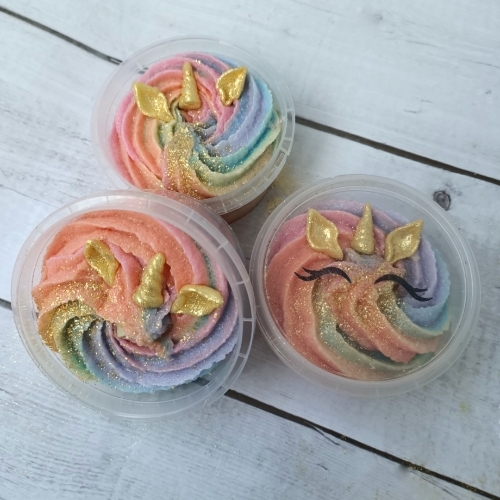 This juicy fruity scented emulsified sugar scrub is a must have! An emulsified sugar scrub is different from your normal oily sugar scrubs, it still scrubs and exfoliates your skin but without that greasy after feel. The addition of the emulsifier makes the scrub more like a lotion when water is applied, this helps the scrub wash off clean and leave your skin not oily but still feeling soft and smooth and lightly scented. The horn and ears are made from soap, these can be removed and used as soap.
This product is vegan friendly and palm oil free.
100g. A note on stearic acid: this is most often made from palm oil or animal fats. Our stearic acid is palm free and vegan
 Ingredients: Ingredients: Sugar, Aqua (water) Liquid soap (Potassium Oleate ,Potassium Cocoate, Glycerin, Potassium Citrate, Citric Acid ) Prunus Armeniaca (Apricot kernel )oil, emulisifiying wax, Mangifera Indica (Mango) Seed Butter, Stearic acid, Fragrance, Phenoxyethanol (and) Caprylyl Glycol. Mica, titanium dioxide, tin oxide, iron oxide, chromium green oxide, ultramarine blue oxide, manganese violet oxide
If you are alergic to nuts this product is not suitable. However we can custom make you one without the nut oils if you ask