Happy New Year!
Stay safe and remember to wash those hands with Soap.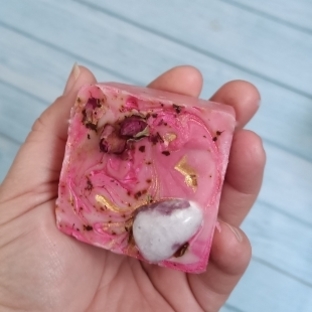 Lepidolite inspired crystal inspired soap. This one is scented with a blend Lemon of Jasmine, Rose Sandalwood and Amber with lepidolite stone on top with rose buds, pink mica swirl and a sprinkle of gold bio glitter
Lepidolite is said the be the stone of peace, tranquility and sweet dreams.
Palm oil free, vegan friendly and environment friendly. Weight 115-130g
Please note as these are all handmade every piece is different, there will be some difference in weight, colour and pattern.
VEGAN FRIENDLY | CRUELTY FREE | PALM FREE 
PHTHALATE FREE | PARABEN FREE | PLASTIC FREE
Good for you and good for our earth